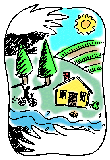 For more information contact:
Tom Lamar
Palouse-Clearwater Environmental Institute
P.O. Box 8596
Moscow, ID 83843
(208) 882-1444
lamar@pcei.org
Community Transportation Program
---
Purpose:
The purpose of the Community Transportation Program is to promote environmentally friendly transportation options. The PCEI transportation committee has the goal of decreased reliance on automobile use for our region. We recognize a number of benefits result from enhancing transportation options--cleaner air, friendlier communities, better health, and sound economics.

Transportation on the Palouse can benefit from strengthening existing transit systems. In 1991 and 1992, PCEI volunteers worked with local transit entities and the two universities to establish shuttle links between Moscow, Pullman and outlying communities. In August of 1992, Wheatland Express of Pullman launched the first regular bus system between Pullman and Moscow. PCEI has been working since then to promote this service. We have also worked to establish VanPool links within our region.
Our projects include:
Other Transportation Links in the Palouse Region:
Wheatland Express operates the Pullman-Moscow Commuter and a Pullman to Lewiston Service. Also charter service.
Link Transportation operates daily passenger service throughout Latah County, as well as to and from Lewiston and Spokane. Also charter and tour service.
Pullman Transit operates a model small town transit system in Pullman, Washington.
Moscow/Latah Public Transit operates a dial a ride service (Latah and Nez Perce Counties) under the name of COAST. Contact them at 800-873-9996.
Regional Public Transit/Valley Transit operates a dial-a-ride service (Nez Perce and Latah Counties). Contact them at 208-746-4091.
WSU Transportation Alternatives WebsiteWashington State University employee transportation options. Includes carpool network listerve information.
---

Last modified 1/31/00.
Return to PCEI Homepage

Watersheds · Community Food Systems · Community Transportation · Environmental Education· Membership Information · Board Bios · Staff Bios · Grants and Contracts · Calendar · Volunteer

Palouse-Clearwater Environmental Institute
P.O. Box 8596
Moscow ID 83843
(208) 882-1444 pcei@pcei.org
http://users.moscow.com/pcei/